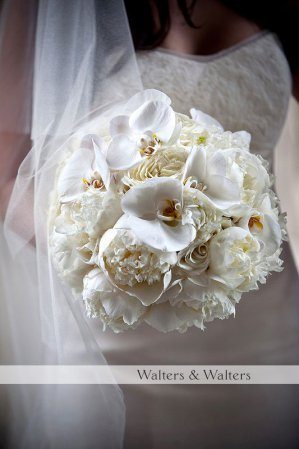 31 May

Bouquet Breakdown

One of the most simply elegant trends in bridal flowers is a monochromatic bouquet.  This is the ideal choice for a bride who wants a clean-cut, formal look.  Whether you prefer all white or variations of one hue, the single color bouquet is in!

The most popular and modern representation of the monochromatic bouquet is pure white. Classy and sleek, white bouquets allow the bride's beauty to take center stage while still making a statement of their own.
Image (above):  Walters & Walters
Flowers are not the only plants with flair!  Today's brides choose bouquets which include a wide range of natural elements to achieve an organic, freshly-gathered look.  Chunky items like succulents add weight to bridal bouquets, while more delicate accents include ferns, herbs and berries.
Walters and Walters
Graham Terhune Photography
Theo Milo Photography
Cade Bowman Photography
Vintage style is timeless trend that's certainly here to stay.  Many vintage-inspired bouquets feature muted palettes in shades of washed out pinks, blues, lavender, peach and yellow.  Incorporating antique lace, heirloom pieces and unique handle treatments really captures that old-fashioned charm!
Brian Mullins Photography
Courtney Aliah Photography
Jagg Photography
Kelsey Combe Photography